NORTH FALMOUTH, Mass. — The Quell Foundation is proud to bestow the 2019 Quell Foundation Achievement Award to Dr. Chris Calkins, emeritus Quell Foundation Board Member and a member of the Department of Health and Policy & Administration at the Pennsylvania State University. 
"Our honoree this year is a man who likely saved my life," said The Quell Foundation CEO Kevin Lynch. "Dr.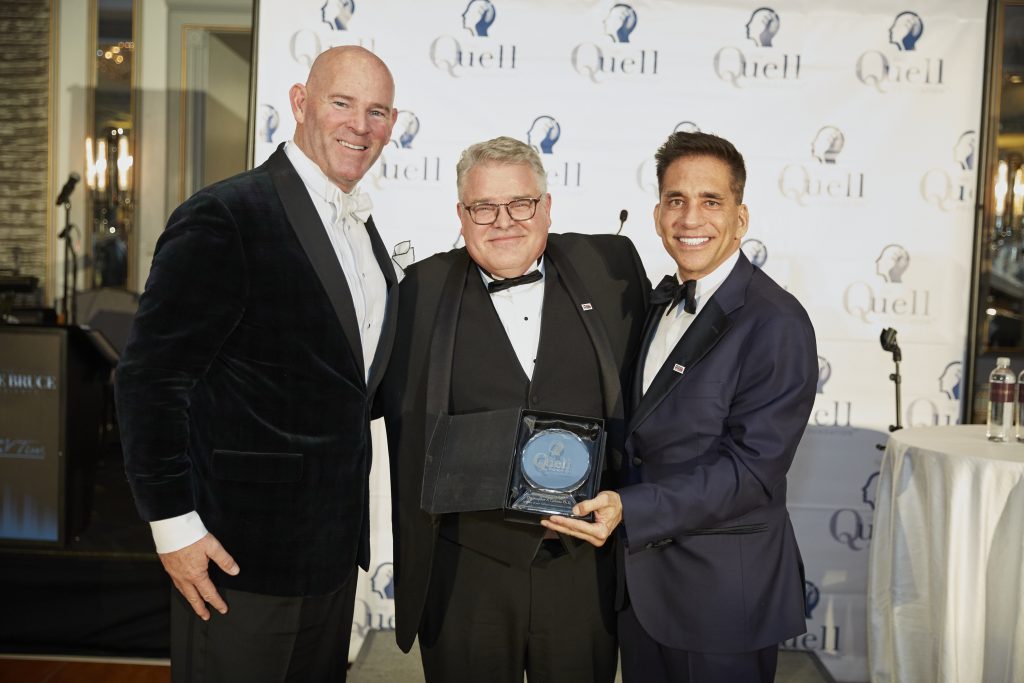 Calkins was building the first online masters of healthcare policy and administration over at Penn State when he gave me, at 49 years old, the opportunity to join his inaugural cohort. What he didn't know at that time was that he was giving me a reason to be proud of myself during a period where I was ashamed for having what I felt and perceived to have failed my son. Seven years ago, Chris watered a dying tree, and everything we have accomplished through The Foundation is the fruit produced from his kindness, wisdom, and guidance. 
It is likely that we will never know the thousands our work will have a positive impact on, but we know that there are generations of lives that will forever be saved because of his efforts. "
Dr. Calkins has been involved in health care for over 35 years, first as an administrator, and for the last decade as an educator. Chris teaches at Penn State University, where he is the Executive Director of the residential and online Master of Health Administration programs. He brings to the classroom both professional and personal history with mental illness. Chris comes from a family in which all three of his siblings and his mother have lived with mental illness and related substance use borne from self-medicating. Bi-Polar, Clinical Depression, and Anxiety Disorders are all part of Chris' family history. A history that continues in his own family to this day.
"For me, the work of The Quell Foundation is so very personal. I have been witness to self-destructive behavior, multiple suicide attempts, voluntary and involuntary hospitalizations, and days lost to the dark of mental illness."
His role now is to be an advocate and ally and a teacher, helping his students see the impact of mental illness and build effective services and outreach responses that meet the needs of their communities.
Chris served as the academic advisor to Kevin Lynch when developing his graduate thesis, which ultimately provided the framework to launch The Quell Foundation. He is also a founding member of the Board of Directors for The Foundation.
"Bravery is as contagious as fear," said Chris to a room of nearly 300. "I want to thank you for the courage to come to this room, to face the stories that brought you into this space, and to continue to move forward and loan your courage to others in need.  
Dr. Calkins' entire speech and more information about The Quell Foundation can be found on The Quell Foundation's Facebook page at http://www.facebook.com/thequellfoundation/
About The Quell Foundation, Inc. 
Based in North Falmouth, The Quell Foundation works to reduce the number of suicides, overdoses, and the incarceration of people living with a mental illness by encouraging people to share their story, increasing access to mental health services, and supporting first responders in recognizing the mental health warning signs among their own. Visit www.TheQuellFoundation.org to learn more.