A junior at Lafayette College studying Neuroscience and a 2019 Quell Foundation Scholar, Zachary Whitney closed out the 2019 Masquerade Ball. He shared his personal story of resiliency and hope in the wake of the loss of his sister, Ciara, who died by suicide just two short years ago.
To view a video of Zach's speech, click here.
---
Hey guys. My name is Zach Whitney, and I'm a junior at Lafayette College studying neuroscience on the pre-med track in hopes of pursuing pediatrics – and, like many of us here, I'm a grateful recipient of one of the Quell Foundation's scholarship awards. Although – I wish I didn't receive this award.
Now, don't get me wrong. I'm THRILLED I received this honor. This scholarship – this foundation – has supported me not only through the financial portion – let's just say I didn't pick a cheap school… sorry, mom and dad – but also through all of the other amazing aspects – the mission of raising mental health awareness, the stance against the stigma, and seriously the immense support I've received just by being here tonight. But again. I wish I didn't receive this award.
Okay, let me clarify, so Kevin doesn't smack me around after this. Because that was kind of just for a dramatic build-up – but really rather, what I wish is that I didn't even have to THINK about APPLYING for this scholarship. Because sending in this application to Quell means something about you. It means you have a personal relation to mental health issues and/or suicide. It means to some extent no matter how big or small, that some portion of yourself is just a little – broken. And that's okay – it's just… difficult. It's a hardship many of us, here and in every corner of the world, have felt in one form or another. And it doesn't define us. It may be something about us, but – I'm going to say this again – it does not define us. What defines us is whatever we choose to let define us. However, each of our experiences with mental health is a portion of what goes into that definition and who we are. It's not our whole story, but it's a story we each have to tell. So here's my story.
March 28th, 2016. A date that has been ingrained in my mind for about three and a half years now. A day that makes my heartache. The day we lost my younger sister, my best friend, to suicide. She suffered from depression and severe OCD, and the pain overcame her. I called 911 with screams all around me, not sure which were my own and which were my parents. The paramedic had me feel for a pulse… that wasn't there. And we sat in my bedroom crying and waiting before we followed the ambulance to the hospital. I was then forced to stay in the waiting room by a nurse while my parents talked to the doctor. Only discovering the official news by hearing the eruption screams and cries from my parents through the door in the other room. It uh, it sucked.
I went to school two days later to distract myself from the darkness and pain that loomed throughout the house. The days, weeks, months that followed are now just a complete blur of sadness and crying.
And I hated it. I couldn't talk about my sister, I couldn't say her name – Ciara – and I never wanted to cry in public, often brushing off that I was okay. I couldn't do it. I didn't want to make myself feel more hurt, nor did I want to make other people sad. I was caught in this battle between wanting to remember her and wanting to avoid the pain of it all. But what I'm starting to get at is this – Often, when I first began to bring up Ciara to other people, all they ended up hearing was that she had OCD and depression. And when I put across an image of myself to strangers, I was an optimistic, enthusiastic, magic-performing, terrible joke-making guy. But that's not what defines Ciara. She was a purposeful, hilariously goofy, art-loving, video-gaming best-friend and so much more.
And on the other hand, that isn't just who I am. I am also someone who lost a loved one to suicide. Ciara lives on in our stories and our hearts, but our stories will be that much tougher to remember, and our hearts will always be healing.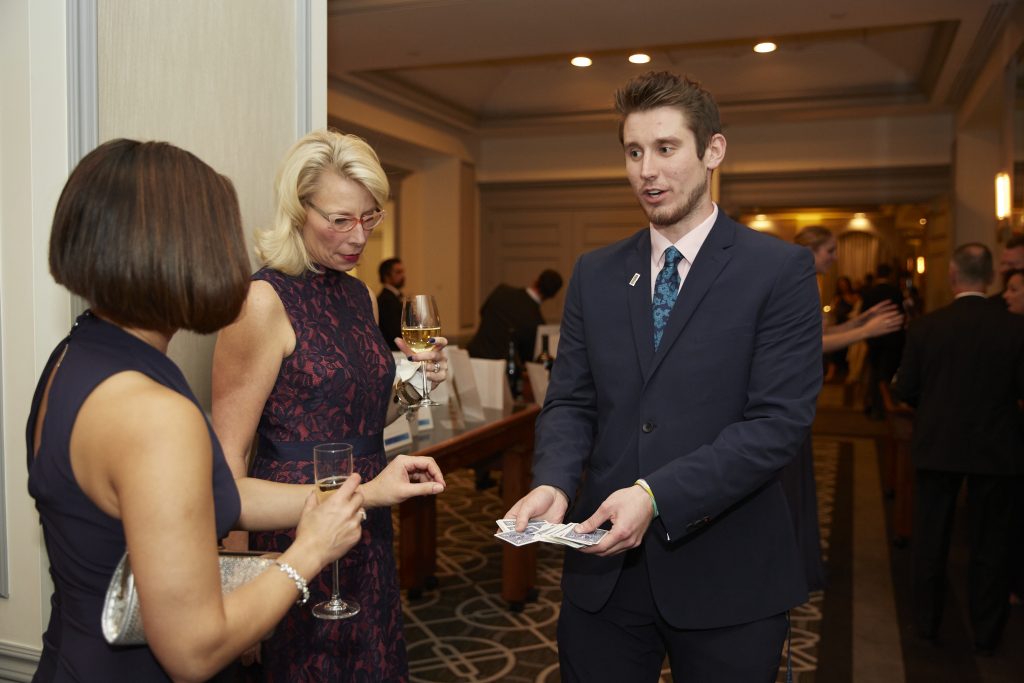 Now, when I first applied for this scholarship, I applied for the Survivor scholarship, because I lost my sister to suicide. But when I heard back, I was awarded the Fighter and Survivor scholarship. The Fighter scholarship is for those diagnosed with mental health issues. And I was honestly really confused at first until I eventually realized… At the time I applied, I was fighting. And I still am a bit, though I'm happy to say to a much lesser extent. But I was suffering. I went through my days with anxiety, lots of post-traumatic stress, and had a lot to get through during this time. And that was tough.
And now somehow I'm up here with you talking to you guys tonight, which is crazy. I never would've expected myself even to be capable of addressing this topic in such a public setting, but hey, if I made it this far into the speech, then I'm doing alright. (Good job, Zach!). When I was asked to speak here, I needed a bit of time before I gave them my thumbs up because this freaked me out. I've performed on stage a huge number of times as a magician in multiple talent shows and such, so stage fright never really got to me – but this… this is something way beyond performing. When I perform, I put on a character and hide behind a deck of cards. Tonight, I'm me. Well, more appropriately, I feel like I'm shedding every last layer off of me. So it was a tough decision. I didn't know if I was ready to really ready to take on this endeavor because it does still hurt a bit to talk about. But here we are, as I somehow just explained to a group of strangers a difficult portion of my life.
And as someone who spends most of my life walking around with a smile on my face, it used to be hard for me to admit I was a little… chipped. But I am. And you are, and you are, you are, and he is, and she is, and so is the guy in the hallway, and your best friend you golf with, and your coworker at your office and – well, you get the idea – that we're ALL just a little upside down and backward sometimes, and the best freaking thing about it is that it's okay! It's what makes us – us. As I'm sure many of you have heard before (if you haven't, get ready for a bomb to be dropped) – it's okay not to be okay.
Took this happy-go-lucky optimist a while to learn that statement as truth through the years, but it's so much better to acknowledge your pain, own it with your whole heart, and take that strength you have because of it everywhere you go. So like I said earlier. I wish I didn't have to be here. But I am. We are. And some of us are hurting. We're all hurting in some way or another. But that's okay. Because what we're all doing here, what the Quell Foundation is doing, is making an impact and changing the face of mental health one step at a time. If Ciara knew about the mission of Quell, I absolutely can't speak for her, but I do think she would be very appreciative of the work that is being done. She was so relieved when she found out these illnesses were the cause of her pain, showing that she understood as well as anyone that there is no need for the stigma that surrounds these diseases. So I stand here in the battle in honor of Ciara. And we all have our roles in the awareness of mental health and the fight against the stigma. But we can only do it together. Hey, that's all from me, guys, thank you so much for tuning in.
Are you interested in sharing your story with The Quell Foundation? Email liftthemask@thequellfoundation.org to learn more.